By forging business relationships with nearby companies and proactively introducing overmolding as an aesthetic and structural benefit, an Idaho molder has carved out a successful niche.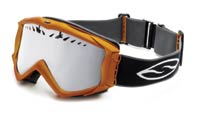 With sporting goods OEMs like Smith in its backyard, Tooling Express Inc. (Bellevue, ID) developed designs like the molded-in strap for these goggles to help it win steady business.
Success for many molders lies not in pursuing fanciful visions of what your business could be, but in realistically appreciating what your business inherently is. Lonnie Tustison, tooling manager of Tooling Express Inc. (TEI), has adopted the latter view, and in doing so, accepted his shop's weaknesses and exploited its strengths to the betterment of TEI's bottom line.
"It'd be nice to get some gravy, high-volume, never-have-to-do-anything-with-them jobs,?Tustison admits, "but that just hasn't panned out for us, so we've gone more towards the things that other people haven't been able to do or haven't been willing to expend the money to try.?lt;/font>
This outlook has increasingly led TEI to multicomponent or overmolding jobs, leaning heavily on the experience of Tustison and his two fellow toolmakers. Geographically isolated in Bellevue, ID, Tustison says TEI, under the leadership of president Owen Downard and his son Evan, has forged relationships with local customers, proactively introducing overmolding's aesthetic and functional benefits to win business.
Snow Jobs
A short cross-country ski trip from many of its customers, TEI has capitalized on proximity to Sun Valley's ski country and worked hard to win the confidence of local sporting goods OEMs like Smith and Scott. TEI actually started as a tool shop supplying molds to a local molder that worked for Scott. Ten years ago when that molding shop went under, Scott said the parts business was TEI's if it would buy a molding machine, so the company obliged and promptly became a custom molder.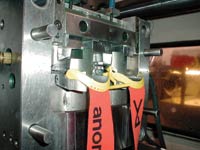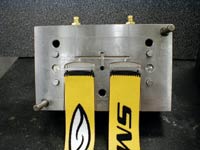 Molding the goggle straps into a clip rather than manually threading them enabled TEI to reduce material scrap and assembly time for clients like Smith and Scott. TEI devised a manual process for strap loading that cut 6 seconds from the quoted cycle time for an automated setup.

The first major project TEI took on for Scott was a two-component ski pole grip. Given only an epoxy model of what Scott was looking for, TEI was forced to reverse engineer the part. Running one press, TEI designed a mold for the PP inner component and a separate tool that held that PP insert to overmold thermoplastic rubber (TPR). Tustison says TEI spent a year "dialing [the mold] in?and performing secondary machining before it produced the parts suitable for Scott.

Its diligent efforts were rewarded, however, and although Scott eventually pulled most of its operations into Europe, that initial program served as a launching point for TEI's success. The grip remains a source of pride for Tustison and TEI, especially after its production was attempted in Europe with mixed results.

"[Scott] tried to replicate what we did here on the European market,? Tustison says, "and to this day if you line up our grip with the European grip side by side you can tell the difference. It was one of those things where we still step back and say, 'Yeah, we did it—a couple of toolmakers in the-middle-of-nowhere Idaho were able to pull something off that the big-money guys couldn't.'"

Soon after, TEI was contacted by a Norwegian company for ski pole grips, and another local OEM, Smith, followed fast behind with various sporting goods components. Tustison says that things (appropriately) "snowballed?from there, and soon the company had seven presses (55 to 375 tons), a CNC EDM, a three-axis machining center, and a CNC lathe. The investments in technology were important, but it was the knowledge gleaned from that first pole grip tool that has proven invaluable for TEI.

A Different Perspective
Of the many lessons Tustison says TEI learned, the most important was to view the cycle in reverse. The key was positioning the PP insert into the second mold and supporting it in a linear and lateral fashion. Tustison says the process TEI adopted defies some common shop knowledge, but that it was critical to the part's success.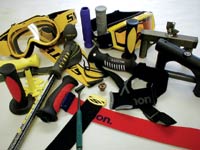 Located in the heart of Idaho's ski country, TEI used an innovative, overmolded ski pole grip created for a local company to branch into other sporting goods parts. By using multimaterial designs, it was able to enhance product appearance and functionality.

"I've seen many times that people will blow a mold open, so they increase the tonnage,?Tustison says. "But then the part won't fill because they don't know they're pinching out the gate or the vent, so they give it more injection pressure to help fill it. They're actually working the wrong direction even though logic would tell you to do this, do this, and do this. Back up, regroup, and lighten it up. Instead of making the shutoffs harder, make them lighter.?lt;/font>

Tustison says TEI doesn't have the luxury of doing flow simulations on all of its jobs, but that doesn't mean it shoots the first parts into a mold with its fingers crossed. For most parts, prototype tools are initially cut from aluminum with only one cavity so there's room to try different gating scenarios or runner configurations. Including Tustison, TEI has just three full-time toolmakers, but it still managed to crank out 20 molds last year, and that tally is closer to 30 if you count the prototype tools. The company also performs short-shot series and other tests, but through all processes, the quest for knowledge remains paramount.

"We try to do as much homework as we can and ask the right people as intelligent questions as we can,?Tustison says. "Even a flow analysis is nothing more, in a lot of ways, than an educated guess.?lt;/font>

Strap It On
TEI continues to market its knowledge of overmolding, and an aggressive strategy recently won it some new business. Smith is one of the largest goggle manufacturers in the world, and just one of its lines constitutes 6 million pairs annually. TEI had long coveted, and won, some of the smaller components for the goggles, but it realized a new design could provide an excellent opportunity for deeper penetration and actually save Smith money in the end.

In Smith's initial goggle design, the elastic strap was sewn onto a clip attached to the goggle frame. Working literally from a bar napkin sketch, Tustison and TEI's president came up with a new design that called for the strap to be molded into the goggle frame. This eliminated the clip as well as the labor to sew it on.

They designed and cut a mold in the evening, shot some crude-looking but fairly representative parts the next morning, and brought the new concept to Smith—just down the road—the same day. Smith was immediately enamored with the aesthetic appeal and durability of the new design.

'Profit is not going to come around the corner. It's going to require patience and a lot of late nights.?lt;/font>

"The strength of adhesion between the nylon and the strap material was far greater than the looping and stitching method,?Tustison says. "You can put one of these new clips in a vice, put your feet up on it, grab it with a pair of pliers and rip and tear and tug, and it's not coming out.?lt;/font>

TEI considered automating the process, and had even purchased a turnkey manufacturing cell centered on a Sumitomo injection molding machine at a trade show, but when the automation package fell through, TEI developed a streamlined, manual-loading process that shoots two goggle straps out of the tool with molded ends in a cycle that's 6 seconds faster than was quoted with automation.

Understanding Overmolding
TEI still doesn't have a preponderance of "gravy? jobs that Tustison desires, but things remain busy, including work on goggles with molded-in straps for coalition troops in Iraq and a recently patented integrated slider-clip design for strap adjustments.

For shops tantalized by TEI's success, Tustison offers advice for adding overmolding to the repertoire. "You've got to realize that profit is not going to come around the corner. It'll take a while. It's going to require patience and a whole bunch of time on your own: lots of off-the-clock hours, lots of late nights.?lt;/font>

Throughout this learning curve, Tustison says honesty with customers about what jobs you can and can't handle is the best policy. "It's vital to be straight up and honest with your customers,?Tustison explains. "The best thing we can do is say, 'That's similar to another [job] that we've done, and we think we can do it; let's go try.'"

More than anything, Tustison explains learning the technology takes time, and it's not a lifeboat to take on molders drowning in other markets. "It was two years before we really made a profit,?Tustison says. "It's an investment of time, it's an investment of patience, and it's not something that if the computer market is in the dumps right now, you'd want to transition your whole company towards overmolding.?lt;br>

IMM - May 2003

Copyright?2003 Canon Communications LLC
Reprinted with permission from immnet.com. Contents cannot be reprinted without permission from the publisher. All Rights Reserved. www.immnet.com